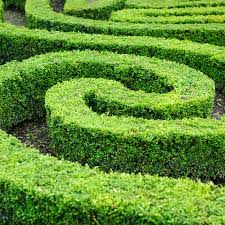 Common name: Box
Height & Spread: 5m x 5m
Planting spacing: 25 cm  apart
Leaves: Evergreen

Where to plant: Full sun / partial shade
Irish Weather Hardiness: Fully Hardy
Pruning: Late  Spring
Buxus sempervirens or Box is one of the hardiest hedging plants out there.
It is very popular due to the fact it can be sculpted into almost any shape and is a vigorous grower.
Its dense habit makes it ideal for hedging and can look quite well when used as a low border hedge.